Our product is sold through select Distributors. Please contact Customer Service 1-800-328-4655 (personally answered) for the nearest distributor.

Car Reamer - Fast Spiral
PDF Download:

HSS Specialty Tools
Norseman's reamers should be ran at
1/2 the R.P.M.
suggested for a corresponding twist drill size.
Coolant feeding reamers:
Coolant or cutting tool lubricant induced thru the reamer should be utilitized when possible. Benefits include
better finishes
,
superior tool life
and the
ability to increase speeds and feeds
.
QUICK LINK
» Car Hex Reamers
HOLE EXPANSION TOOLS — Magnum Super Premium

HSS Type 50-AG Car Reamers — Standard Flute


• These reamers are especially designed for the reaming of structural steel plates commonly
found in truck frames, rail cars, bridges, and pressure vessels.
• All tools are constructed with left-hand spiral and right-hand cut.
• For use in enlarging previously formed or drilled holes.
Download: HSS Standard Flute Car Reamers Type 50-AG



HSS Type 51-AG Car Reamer — Fast Spiral, Hole Buster™


• The 51-AG, with the fast spiral, is the more aggressive of the two styles.
It also will fit the needs of users who prefer a stop collar.
• The left-hand spiral eliminates the tendency of the reamer to pull itself into holes.
Download: HSS Car Reamer Fast Spiral Hole Type 51-AG



HSS Type 52-AG Hex Nut , Bridge Length Reamers




HSS Type 53-AG Hex Nut , Car Length Reamers


• Designed for aligning and enlarging holes in structural steel applications.
• For use in rotary impact sockets. Shank diameter matches socket size for bolt which
will be driven through reamed hole.
Download: HSS Hex Nut Bridge and Car Length Reamers




HSS Type 54-AG Bridge Reamers — Straight Flute





HSS Type 55-AG Bridge Reamers — Spiral Flute


• They are available in both straight and spiral flute configuration and are designed for heavy-duty reaming as encountered in the fabrication of structural steel assemblies, bridge erection, and ship construction.
• The tapered design permits the reamer to enter "out-of-line" holes often encountered in structural work.
Download: HSS Bridge Straight and Spiral Flute Reamers



HSS Type 134-AG Hole Hog™ 1/2" Shank, 4-Flute Core 3-flats on Shank


• This tool is designed exclusively for enlarging existing holes.
• The 4-flute design eliminates the catching and hogging-in experienced with standard S & D drills when breaking through thinner materials such as truck frames.
Download: HSS Hole Hog™ Type 134-AG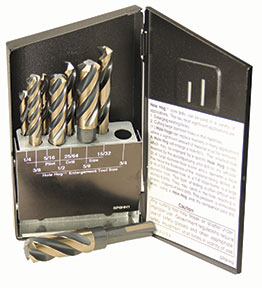 Hole Hog™ 4-Flute Core, 3-Flats on Shank Set


• This core drill type 134-AG designed exclusively for enlarging existing holes.
• A selection of core drills and compansion (minimum starting hole size) pilot drills in a
black steel index.
• SP-8HH Set contains:
134-AG core drill sizes 3/8, 1/2, 5/8 & 3/4 — 175-AG drill sizes 1/4, 5/16, 25/64 & 15/32

• SP-6HHL Set contains:
134-AG core drill sizes 1/2, 5/8 & 3/4 — 175-AG drill sizes 5/16, 25/64 & 15/32

• SP-6HHS Set contains:
134-AG core drill sizes: 3/8, 1/2 & 5/8 — 175-AG drill sizes 1/4, 5/16 & 25/64
Download: Hole Hog™ 4-Flute Core