Our product is sold through select Distributors. Please contact Customer Service 1-800-328-4655 (personally answered) for the nearest distributor.

HSS Left-Hand Spiral Drill
PDF Download:

HSS Specialty Tools Section
A common use is to allow the head of a countersunk bolt or screw, when placed in the hole, to sit flush with or below the surface of the surrounding material (by comparison, a counter bore makes a flat-bottomed hole that might be used with a socket-head cap screw).
A countersink may also be used to remove the burr left from a drilling or tapping operation thereby improving the finish of the product and removing any hazardous sharp edges.
QUICK LINK
» Chatterproof Countersinks
CHATTERPROOF™ COUNTERSINKS — Super Premium

HSS Type 82-AG Gold Oxide, 82° Piloted Countersinks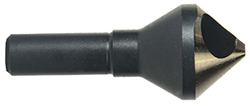 HSS Type 82-AG Gold Oxide, 82° Pilotless Countersinks





HSS Type 90-AG Gold Oxide, 90° Deburring Tool


• Special Hi-Molybdenum tool steel, gold surface treated for maximum lubricity.
• Designed for fast stock removal.
• Chatterproof™ — for a micro smooth finish.
• Recommended for smooth finishes on metal, plastic and wood applications.
• Made in the U.S.A.
DOWNLOAD: HSS Piloted/Pilotless Countersinks and Deburring Tools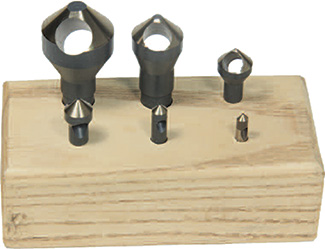 Countersink and Deburring Sets


• SP-4CS — 82-AG C/S sizes: CS5S, CS65, CS5C, CS10S
• SP-4ACS — 82-AG C/S sizes: CS6S, CS8S, CS10S, CS3/16S
• SP-6DB — 90-AG D/B sizes: DB1/16, DB1/8, DB5/32, DB3/16, DB5/16, DB9/16
• SP-9CS — 82-AG C/S sizes: CS5S, CS6S, CS8C, CS10S, CS1/4, CS5/16, CS3/8, CS7/16, CS1/2