Our product is sold through select Distributors. Please contact Customer Service 1-800-328-4655 (personally answered) for the nearest distributor.

HSS Heavy-Duty NAS 907B
PDF Download:

HSS Twist Drill Section
Titanium Nitride (TiN)
- Gold (2900 HV)*
• General purpose coating, low heat resistance and good lubricity.
• Results in drilling through steel ranges
2X to 6X life span
.
• Can push it
10–25% faster
, but may compromise tool life.
• Reduces the chance of cold welding.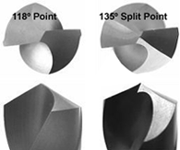 Point 118° & Split Point 135°
Split point self-centering, requires less thrust in drilling harder metal, breaks up chips.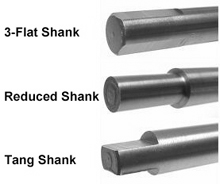 Common Shank Types
3-Flatted Shank
— Generally 3 flats designed to allow a strong chuck grip on the shank. Reduces the possibility of the drill slipping in the chuck during tough drill applications.
Reduced Shank
— Usually 1/4", 3/8", or 1/2" and are designed to allow a larger diameter drill to be used with a chuck capable of holding only smaller diameter drills.
Tanged Shank
— This style of shank is used with a split sleeve drill driver as a replacement for taper shank drills