Our product is sold through select Distributors.
Please contact Customer Service 1-800-328-4655 (personally answered) for the nearest distributor.
Consolidated Toledo Drill — Product Catalog - PDFs

Drill Bits Section

Annular Cutters & MBD Section

Carbide Burrs Section

Display,Cabinets,Indexes
PDF Downloads:


Product Catalog - CTD Drill and Tool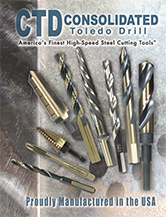 Twist Drills Section
NEW!
Cryogenic Nitrided
Jobber Length. Super Premium 135° split point drills will substantially outperform cobalt drills in work harding stainless steel applications.
NEW!
M42 Cobalt Taps. High performance reduced neck with spiral point taps and Straight flute hand taps can be used by hand or tapping under power.
Using the Latest manufacturing and design technology to provide hole-cutting solutions for a wide range of industries.
NEW!
Solid Carbide Straight Flute Drills. We offer a wide range of specialty tools including: Acrylic drills, Left-hand spiral drills, Hex Nut Bridge Reamers.
Double Cut is the most popular burr for ferrous applications. Aluma Cut is used on Aluminum, Non-ferrous metals, Soft steel, Reinforced plastics and other soft materials.
Variety of sizes of sets, ranging from 4 piece tool sets up to 115 piece sets. All sets packaged in sturdy steel and hard plastic indexes.
Cost effective tool management and storage systems, which eliminates wasted time searching and is the safest way to store sharp tools.
Coating hardness is measured in HV (Hardness in Vickers) Heat treat M2 as base drills before coating would measure 880 HV (65RC).