Our product is sold through select Distributors. Please contact Customer Service
1-800-328-4655
(personally answered)
for the nearest distributor.
HSS Heavy-Duty NAS 907B
---
Magnum Super Premium vs. Cobalt
The Magnum Super Premium drills will substantially outperform cobalt drills in work hardening stainless steel applications.

This performance advantage is the result of construction differences between the two types of drills. Cobalt drills, manufactured to Type J NAS907 specs, has a very thick web. This web is necessary to limit breakage of the brittle cobalt steel.

Magnum Super Premium drills is made of special Hi-moly tool steel, which is much tougher than cobalt steel. The web on a Magnum Super Premium drill can be thinned considerably due to the toughness of the steel.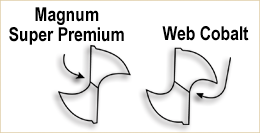 A Magnum Super Premium drill with its thin web will penetrate the work hardening stainless fast enough to continually cut beneath the chip which is hardening from deformation.

This means the drill is cutting softer steel. The cobalt drill, with its thick web, cannot be fed at a fast enough rate to cut beneath the area which is hardening. As a result the cobalt drill is continually drilling into hardened steel.
Consolidated Toledo Drill — Drill Feeds and Speeds
Different drilling conditions make it impossible to develop any rigid rules for feeds and speeds.
The following tables contain guidelines which can be utilized when
Drilling Standard Materials.
Also, the following "
rules of thumb
" can be used to determine proper feeds and speeds for drilling
ferrous materials (
NOTE:
Varying conditions can easily require adjustments.
)

•
Feed equals
.001" per revolution for every 1/16" of drill diameter, plus or minus .001" on the total.
•
Speed equals
80 surface feet per minute in 100 Brinell hardness material and the speed should be reduced 10 surface feet per minute for each additional 50 points Brinell hardness.
•
Feed and speed rates
should be
reduced up to 45-50‰
when drilling holes deeper
than
4 drill diameters
.
Feeds and Speeds - Formulas
• R.P.M. = (3.8197 / Drill Diameter) x S.F.M.
• S.F.M. = 0.2618 x Drill Diameter x R.P.M.
• I.P.M. = I.P.R. (feed) x R.P.M. (speed)
• Machine Time (seconds) = (60 x Feed minus Stroke) / I.P.M.

| | |
| --- | --- |
| R.P.M. = Revolutions Per Minute | I.P.R. = Inches Per Revolution |
| S.F.M. = Surface Feet Per Minute | Feed Stroke = Drill Depth + 1/3 |
| I.P.M. = Inches Per Minute | Car Reamer = 1/2 Speed of Drill |
Recommended Feeds of Various Diameter Drills
| | |
| --- | --- |
| Diameter of Drill - Inches | Feed Inches per Revolution |
| Under 1/8 | 001 to .003 |
| 1/8 to 1/4 | .002 to .006 |
| 1/4 to 1/2 | .004 to .010 |
| 1/2 to 1 inch | .007 to .015 |
| 1 inch and Over | .015 to .025 |
Recommended Speeds for Standard Materials with H.S.S. Drills
Material
Recommended Speed (SFM)
Aluminum and its Alloys
200-300
Brass and Bronze (Ordinary)
150-300
Bronze (High Tensile)
70-150
Die Casting (Zinc Base)
300-400
Iron-Cast (Soft)
Cast (medium hard)
Hard Chilled
Malleable
75-125
50-100
10-20
80-90
Magnesium and its Alloys
250-400
Monel Metal or High-Nickel Steel, Stainless Steel
30-50
Plastics or Similar Materials
100-300
Steel
Mild .2 carbon to .3 carbon
Steel .4 carbon to .5 carbon
Tool 1.2 carbon
Forgings
Alloy - 300 to 400 Brinell

80-110
70-80
50-60
40-50
20-30
High Tensile (Heat Treated)
(Consult your material supplier)
Recommended Speeds for Carbide Tipped Holecutters
| | | |
| --- | --- | --- |
| Size | Steel | Stainless Steel |
| 11/16 to 13/16 in. | 700 - 1000 RPM | 300 - 700 RPM |
| 7/8 to 1-3/16 in. | 500 - 800 RPM | 200 - 450 RPM |
| 1-1/4 to 1-9/16 in. | 300 - 600 RPM | 175 - 315 RPM |
| 1-5/8 to 2 in. | 200 - 500 RPM | 120 - 225 RPM |
| 2-1/16 to 2-3/8 in. | 200 - 400 RPM | 95 - 195 RPM |
| 2-7/16 to 3 in. | 150 - 300 RPM | 80 - 150 RPM |