Magnum Super Premium
vs. Cobalt
The Magnum Super Premium drills will substantially outperform cobalt drills in work hardening stainless steel applications.

This performance advantage is the result of construction differences between the two types of drills. Cobalt drills, manufactured to Type J NAS907 specs, has a very thick web. This web is necessary to limit breakage of the brittle cobalt steel.

Magnum Super Premium drills is made of special Hi-moly tool steel, which is much tougher than cobalt steel. The web on a Magnum Super Premium drill can be thinned considerably due to the toughness of the steel.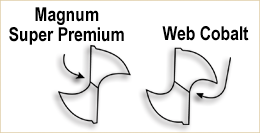 A Magnum Super Premium drill with its thin web will penetrate the work hardening stainless fast enough to continually cut beneath the chip which is hardening from deformation.

This means the drill is cutting softer steel. The cobalt drill, with its thick web, cannot be fed at a fast enough rate to cut beneath the area which is hardening. As a result the cobalt drill is continually drilling into hardened steel.