Our product is sold through select Distributors. Please contact Customer Service 1-800-328-4655 (personally answered) for the nearest distributor.
Hand Tapping using HSS Spiral
Type 190-AL Left-Hand Drill
Titanium Nitride (TiN)
- Gold (2900 HV)*
•
General purpose coating
, low heat resistance and good lubricity.
• Results in drilling through steel ranges
2X to 6X life span
.
• Can push it
10–25% faster
, but may compromise tool life.
•
Reduces
the chance of cold welding.
---
Titanium Carbon Nitride (TiCN)
- Pink to Purple (4000 HV)*
• Better in stainless steel than TiN.
• Recommended for
aluminum
,
brass
and
bronze
applications
• Suitable in very abrasive and high tensile materials.
• Designed for
hardened steels
and
cast iron
up to 45 Rockwell C.
• Layer of TiCN to a cutting tool will
increase life
span up to 6X.
---
Titanium Aluminum Nitride (TiAIN)
- (4500 HV)*
•
ALTiN/TiAIN coating
is great choice in machining stainless steels (All) at any speed.
• For semi-dry to dry cutting of most steels,
high-nickel alloys
,
stainless steel
and
cast iron
.
• However, the end user still needs to be cautious to
not exceed the limitations of the high-speed steel
.
*
Coating hardness is measured in
HV (hardness in Vickers)
. Heat — treat M2 as the base drills before coating would measure 880 HV (65RC).
---
Cutting Tool Lubricant
Type 11-AG Ultra S/P™
Super Premium
— High Viscosity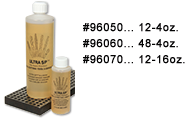 • Super concentrated no run formula.
• Clings to vertical surfaces for continual lubrication.
• This fliud will extend tool life and yield a super machined finish.
Lubricants
The use of a suitable lubricant is essential with most tapping and reaming operations.
Recommended lubricants for some common materials are as follows:
Carbon (mild) Steel:
Petroleum-based
or synthetic cutting oil.
Alloy Steel:
Petroleum-based cutting oil
mixed with a small amount
(approx. 10%)
of kerosene or mineral spirits. This mixture is also suitable for use with stainless steel.
Cast Iron:
No lubricant. An air blast should be used to clear chips.
Aluminum:
Kerosene or mineral spirits mixed with a small amount
(15–25%)
of petroleum-based cutting oil.
Brass:
Kerosene or mineral spirits.
Bronze:
Kerosene or mineral spirits mixed with a small amount
(10–15%)
of petroleum-based cutting oil.
Consolidated Toledo Drill — Tapping Feeds and Speeds

How to Tap Effectively and Optimize Tool Life
To minimize tapping issues the following rules should be followed:
• Use a pitch controlled tapping attachment.
• Choose the correct lubricant (Ultra S/P™ Super Premium).
• Use the correct Tapping Drill Size and Type of Tap.
• Choose the correct Speeds and Feeds.
• Keeping taps sharp, check tap for wear.
• Ensure accurate alignment.
• Check hardness of material, especially when changing batches of material.


Tapping Speed can be calculated using:
(Use Table below)
RPM
=
Feed Speed (SFM)
/
0.26 x Tap's Outer Dimension
Tapping speeds should be "DECREASED" if
• Lubricant is Poor, or Flow is Restricted.
• Bottom lead or Spiral flute taps are used.
• Thread depth ( % ) increase.
• Thread pitch is course.
• Cutting taper threads (50% Normal Speed).

Tapping speeds can be "INCREASED" if
• Thread Depth decreases.
• Thread Pitch is fine.
• Coolant flow and Quality is Good.
• Spiral point taps are used.

Tapping Speeds
Proper tapping speeds are very important in obtaining efficient tapping results. The optimum speed for tapping is highest speed that conditions permit, consistent with acceptable tool life. Speeds must be reduced as length of hole increases. Holes, taps with tapered chamfers are able to operate faster than taps with bottoming chamfers. Vertical tapping speeds can be increased, compared to horizontal tapping.
Recommended Feeds and Speeds
table below suggests a "starting point" for selecting the speed to operate the tap.
Material
Recommended Feeds and Speeds (SFM)
Aluminum - Cast Alloys
60
Aluminum - Diecast Alloys
70
Aluminum - Wrought Alloys
80
Brass
60-100
Bronze
30-40
Copper
60-80
Gun Metal
50-60
Cast Iron - Grey
30-60
Cast Iron - Ductile
50
Cast Iron - Alloys
15-30
Malleable Alloy
20-40
Magnesium Alloys
50-70
Nickel Alloys
10
Nimonic Alloys
10-12
Mild Steel
30-50
Steel - Medium Carbon
35
Tool Steels
15-25
Cast Steel
25
Titanium Alloys
10
Stainless Steel - 300 Series
10-20
Stainless Steel - 400 Series
15
Plastic
50-70
Zinc - Diecasting
80