Consolidated Toledo Drill
America´s Finest High Speed Cutting Tools™
---
PRODUCT CATALOG
>>
Car Reamers – Fast Spiral Mechanics Length

For use in enlarging previously formed OR drilled holes.
Type 51-AGM Mechanics length these reamers are especially designed for the reaming of structural steel plates commonly found in truck frames, rail cars, bridges and pressure vessels.
All tools are constructed with left–hand spiral and right–hand cut.
Manufactured in the USA.

VORTEX–POINT™ & Car Reamers Mechanics Length Set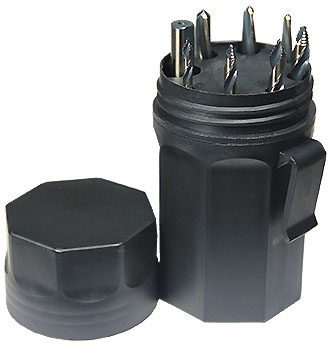 Part# 82340 —Vortex/Reamer sizes: 3/16", 1/4", 5/16", 3/8" + 3/8", 1/2", 5/8", 3/4"
VORTEX–POINT™ Split–point design gives accurate starting and its self–centering eliminating the need for the use of a center punch.
VORTEX–POINT™ Unique tip geometry reduces heat generation & cutting tool wear increasing tool life.
Strong, Lightweight & Highly–impact resistant.
Reliable, High–density plastic.
Manufactured in the USA.