Consolidated Toledo Drill
America´s Finest High Speed Cutting Tools™
---
PRODUCT CATALOG
>> Step Reamer Gold Oxide 3–Flats on Shank
Step Reamers Gold Oxide – 3–Flats on Shank

Gold oxide – low temperature stress relief that enhances lubricity, reduces friction & increases toughness.
Accurately starts, enlarge and deburrs in holes in material up to 1/2" thick.
90° notch point starts holes easily.
Each reamer has five holes enlargement steps.
Manufactured in the USA.

Type 78-GR Step Reamers 2pc. – 3pc. Sets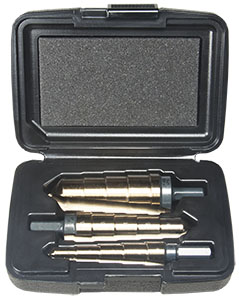 Secure, snap-lock plastic cover.
Store the step reamer while protects from harsh environments.
3pc. Part# 83750: 5/16" – 1-1/16"
2pc. Part# 83760: 5/16" – 13/16"
Manufactured in the USA.