Consolidated Toledo Drill
America´s Finest High Speed Cutting Tools™
---
PRODUCT CATALOG
>> Left–Hand Drills & Stud / Bolt Extractors Set
HSS Super Premium Left–Hand Spiral

Ideal for drilling broken Studs or Bolts.
Left hand spiral drill bit may lossen the bolt stud while drilling a hole for use of the Screw or Bolt Extractor.
135° Split point for fast penetration and accurate starting without center punch.
Manufactured in the USA.

10pc. 190-AL 420 Stud/Bolt Extractor Set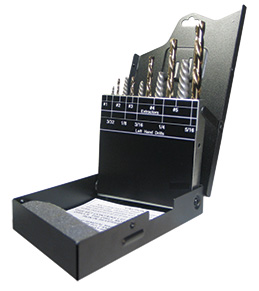 Part# 58510
Size Include: EX 1, 2, 3, 4, 5 + 3/32", 1/8", 3/16", 1/4", 5/16"
Fast and easy stud removal.
Left–hand spiral drills often eliminate the need for use of extractor.
Most broken studs are work hardened during the breaking process.
The drill loosens bolt stud with counter clockwise rotation.


Square style Forged Hi-Carbon Steel Studout ™ Extractor

Forged Hi-Carbon Square Style extractors gives the tools the ability to remove broken Bolts, Screws and Pipes with minimum deformation of the broken part.
To Remove The Broken Thread Part: Drill a hole in the end of the broken part ( Type 190-AL Left–hand spiral drills are recommended for this drilling operation ) insert extractor, then turn Counter – clockwise using a Wrench on the exposed end of the extractor.

CARDED Type 420-AL — Broken Bolt Remover Combo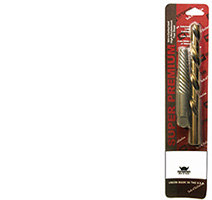 CARDED: Left-Hand drill combined with Screw & Pipe Spiral style Extractor ideal to remove Broken Screws, Bolts, Threaded Parts and Pipes.
Ideal for drilling broken Studs or Bolts to use Type 190-AL drill.